NEW 2.5M x 3M AWNING ROOF TOP TENT + EXTENSION CAMPER TRAILER 4WD 4X4 CAR RACK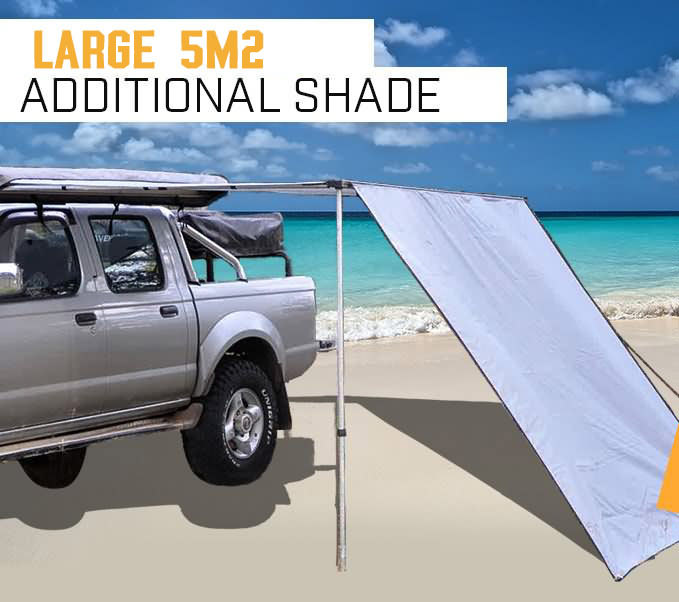 NEW 2.5M x 3M AWNING ROOF TOP TENT + EXTENSION CAMPER TRAILER 4WD 4X4 CAR RACK
Enjoy sunny days in the outdoors without any fuss or hassle with this awning roof and awning extension. Provide comfortable shade against the sun or cover during the rainy season. Designed and built for the outdoors, this awning roof and extension can last for years of use in the outdoors. It's made of high-quality Ripstop 420 Oxford Material - as strong as Canvas at a fraction of the price which allows you to easily experience the outdoors without having to worry about accommodations or comfort when you are travelling.
This awning roof and extension comes with different items that can help make things easier for you in the outdoors. It comes with pegs and guy ropes for added stability, extendable twist lock poles for reliable support, and a travel cover to keep it tidied up when not in use. Extremely durable, this awning roof and extension is made of materials used in making hot air balloons and boat sails.
You can easily bring this awning roof and extension wherever you go – whether you're out fishing, hunting, or camping, you can easily rely on this product to provide you with the right comfort to keep you going forward in your adventures. This awning roof and extension set comes with mounting brackets for added support and stability.
Product
TITLE:
RATING
TITLE:
RATING
Dimensions & Weight
Dimensions
XXcm(L) x XXcm(W) x XXcm(H)
Weight:
XXKg
Please note we are unable to deliver some bulky products to PO Box addresses.
We aim to dispatch in-stock items within 24 business hours after payment is cleared however please allow approximately 2 - 12 working days for product to arrive.
We highly recommend to provide a contact number that you can be reached on.
Outbaxcamping offers a 12 month warranty on all products from the date of purchase, unless otherwise stated. Outbaxcamping warrants its products against defects in materials and/or workmanship. If a defect arises and a valid claim is received by Outbaxcamping within 15 days of purchase, Outbaxcamping may, at its option, repair the products, provide replacement parts, or arrange a full replacement. If a defect arises and a valid claim is received by Outbaxcamping after 15 days of purchase, Outbaxcamping will replace the parts needed to repair the products. The warranty period for commercial use is 3 months.
Naturally the warranty cover does not extend to damage caused by normal wear and tear, accidents, misuse, lack of maintenance, neglect, natural disaster, or other external causes; to damage caused by operating the equipment in a manner outside that described in the instructions. The warranty is considered void if the item has been modified, altered or tampered with by a person (or persons) not authorised by us to provide service (not including standard periodic maintenance). All parts considered to be perishable (such as batteries), accessories and bonus gifts are not covered by warranty.
Dead on arrival product is not something to expect when you buy from Outbaxcamping. However, should your item not function on arrival you are entitled to return the product to us for a full refund, repair, or replacement at your request. The item needs to be returned and inspected prior to the resolution being provided.