NEW 2.5M x 3M AWNING ROOF TOP TENT + EXTENSION CAMPER TRAILER 4WD 4X4 CAR RACK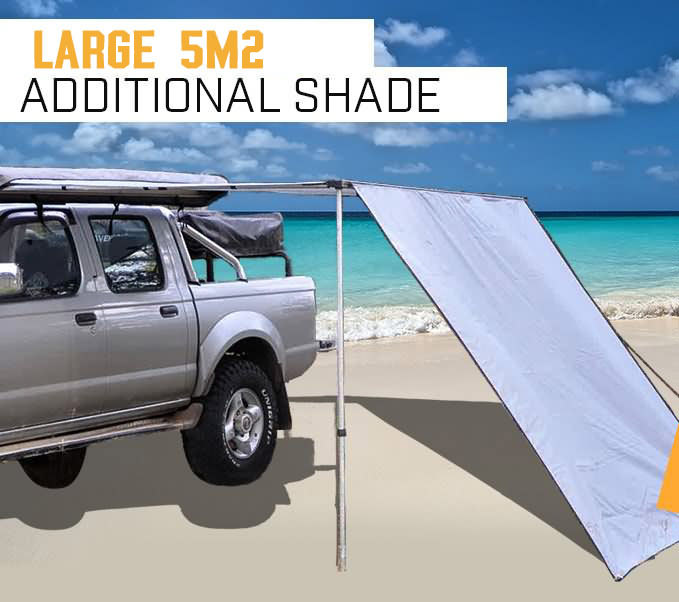 NEW 2.5M x 3M AWNING ROOF TOP TENT + EXTENSION CAMPER TRAILER 4WD 4X4 CAR RACK
Enjoy sunny days in the outdoors without any fuss or hassle with this awning roof and awning extension. Provide comfortable shade against the sun or cover during the rainy season. Designed and built for the outdoors, this awning roof and extension can last for years of use in the outdoors. It's made of high-quality Ripstop 420 Oxford Material - as strong as Canvas at a fraction of the price which allows you to easily experience the outdoors without having to worry about accommodations or comfort when you are travelling.
This awning roof and extension comes with different items that can help make things easier for you in the outdoors. It comes with pegs and guy ropes for added stability, extendable twist lock poles for reliable support, and a travel cover to keep it tidied up when not in use. Extremely durable, this awning roof and extension is made of materials used in making hot air balloons and boat sails.
You can easily bring this awning roof and extension wherever you go – whether you're out fishing, hunting, or camping, you can easily rely on this product to provide you with the right comfort to keep you going forward in your adventures. This awning roof and extension set comes with mounting brackets for added support and stability.
Product
TITLE:
RATING
TITLE:
RATING
Dimensions & Weight
Dimensions
XXcm(L) x XXcm(W) x XXcm(H)
Weight:
XXKg
We dispatch items super quick, within 24 hours during business days.
Orders placed by midnight will qualify for next day dispatch.
If you place an order on a Friday evening or the weekend, your item will be dispatched on Monday morning.
We believe in great service, so if you ever have an issue with the item within or outside of warranty, simply contact our team and we will be glad to help.
All our items come with full Australian warranties that comply with the Australian Consumer Law and Consumer Guarantees.
Our full warranty details can be found here.