240V Electric Pole Hedge Trimmer Outdoor Backyard Garden Power Tools Long Reach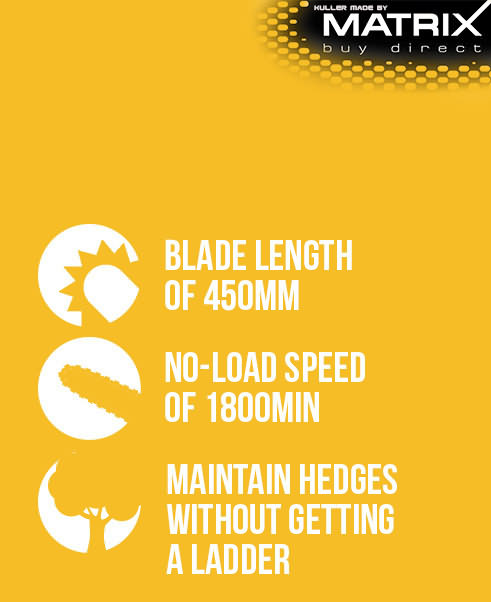 240V Electric Pole Hedge Trimmer Outdoor Backyard Garden Power Tools Long Reach
Take care of high hedges without leaving the ground by using the 240V Electric Pole Hedge Trimmer, a garden tool that's perfect for home gardens and backyards.
As an electric model, it's a super lightweight product that makes it easy to do outdoor chores. Plus, there won't be any batteries that require constant charging, nor would there be a heavy engine that needs regular maintenance.
With this garden tool, you no longer have to worry about getting a ladder to maintain your yard. The 240V Electric Pole Hedge Trimmer lets you keep your hedges well-manicured with great ease.
Enjoy having a beautiful outdoor area all year round with the 240V Electric Pole Hedge Trimmer. Buy one today!
SPECIFICATIONS
Voltage / Frequency:
240V / 50Hz
Input Power:
450W
No-Load Speed:
1800min-1
Chain Speed:
16mm
DIMENSIONS & WEIGHT
Blade Length:
450mm
Max Length:
2.6m
Weight:
3.7kg
WHAT'S INCLUDED
1 x
240V Electric Pole Hedge Trimmer
Please note we are unable to deliver some bulky products to PO Box addresses.
We aim to dispatch in-stock items within 24 business hours after payment is cleared however please allow approximately 2 - 12 working days for product to arrive.
We highly recommend to provide a contact number that you can be reached on.
Outbaxcamping offers a 12 month warranty on all products from the date of purchase, unless otherwise stated. Outbaxcamping warrants its products against defects in materials and/or workmanship. If a defect arises and a valid claim is received by Outbaxcamping within 15 days of purchase, Outbaxcamping may, at its option, repair the products, provide replacement parts, or arrange a full replacement. If a defect arises and a valid claim is received by Outbaxcamping after 15 days of purchase, Outbaxcamping will replace the parts needed to repair the products. The warranty period for commercial use is 3 months.
Naturally the warranty cover does not extend to damage caused by normal wear and tear, accidents, misuse, lack of maintenance, neglect, natural disaster, or other external causes; to damage caused by operating the equipment in a manner outside that described in the instructions. The warranty is considered void if the item has been modified, altered or tampered with by a person (or persons) not authorised by us to provide service (not including standard periodic maintenance). All parts considered to be perishable (such as batteries), accessories and bonus gifts are not covered by warranty.
Dead on arrival product is not something to expect when you buy from Outbaxcamping. However, should your item not function on arrival you are entitled to return the product to us for a full refund, repair, or replacement at your request. The item needs to be returned and inspected prior to the resolution being provided.