NEW 78cc Petrol Chainsaw 24" Bauholtz Bar Chain Saw Commercial Pruning e-Start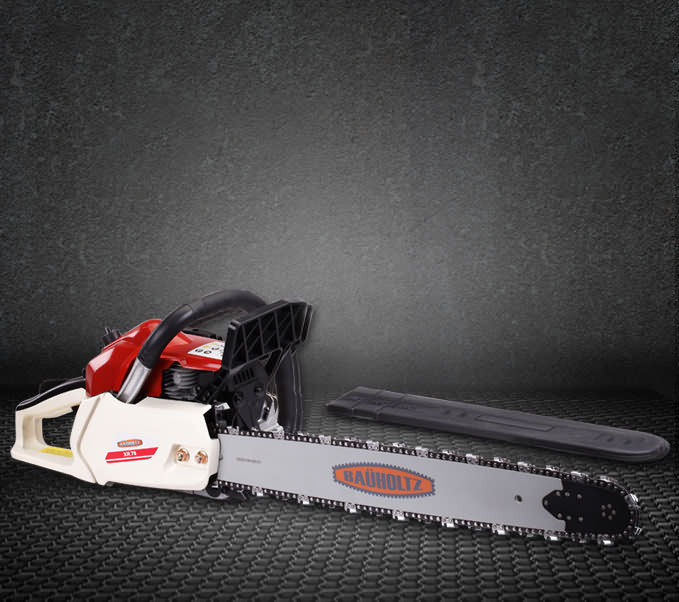 NEW 78cc Petrol Chainsaw 24" Bauholtz Bar Chain Saw Commercial Pruning e-Start
German designed, the Buaholtz XR78 has been built tough, combining power, precision and manoeuvrability in a chainsaw you can rely on.
Whether it be for the professional contractor or home gardener, Buaholtz XR78 will make light work of even the toughest Australian hardwoods. Powered by a High Performance 78cc Engine, the Bauholtz XR78 is jam packed with awesome features, including Bauholtz's patented Easy Start System, air injected carburettor, anti-vibe grab bar, as well as the German engine design, making servicing a breeze.
Fitted with a 24" Bauholtz Bar, the XR78 will make light work of the toughest jobs. Delivering the performance you would expect in a chainsaw retailing for over $1500, the Buaholtz XR78 provides unmatched value for money.
Backed up by a 1 Year Manufacturer's Warranty, the Bauholtz XR78 is fast becoming Australia's hottest selling garden tool. Don't miss out on this amazing offer.
Product
Engine Type:
Petrol 2 Stroke Commercial Grade
Maximum Power:
5.7HP
Displacement:
78CC
Maximum Engine Speed:
11,000 RPM
Ignition Type:
CDI
Bar Type:
Sprocket Nose
Bar Length:
24"
Max Cutting Length:
610mm
Fuel Tank Capacity:
850mL
Fuel Type:
Regular Unleaded 95+ RON
Fuel Mix:
25:1 (25 parts fuel to 1 part two stroke oil)
Bar Oil Capacity:
350mL
Bar Oil Type:
SAE#10W-30 or Similar

Chain Type:
Low Kickback Premium semi-Chisel

Chain Spec:
24", Pitch 0.325", Gauge 0.058, Links 84
Dimensions & Weight
Carton Dimension (L x W x H)
640 x 300 x 300mm
Carton Weight:
10.5kg
Product Weight:
7.5kg
What's Included
1x
Bauholtz 78CC Professional Chainsaw
1x
Bar Cover
1x
Tool Kit
1x
Chain Sharpener
1x
Fuel Mixer
1x
Earmuffs
1x
Goggles
1x
Gloves
1x
User Manual
Please note we are unable to deliver some bulky products to PO Box addresses.
We aim to dispatch in-stock items within 24 business hours after payment is cleared however please allow approximately 2 - 12 working days for product to arrive.
We highly recommend to provide a contact number that you can be reached on.
Outbaxcamping offers a 12 month warranty on all products from the date of purchase, unless otherwise stated. Outbaxcamping warrants its products against defects in materials and/or workmanship. If a defect arises and a valid claim is received by Outbaxcamping within 15 days of purchase, Outbaxcamping may, at its option, repair the products, provide replacement parts, or arrange a full replacement. If a defect arises and a valid claim is received by Outbaxcamping after 15 days of purchase, Outbaxcamping will replace the parts needed to repair the products. The warranty period for commercial use is 3 months.
Naturally the warranty cover does not extend to damage caused by normal wear and tear, accidents, misuse, lack of maintenance, neglect, natural disaster, or other external causes; to damage caused by operating the equipment in a manner outside that described in the instructions. The warranty is considered void if the item has been modified, altered or tampered with by a person (or persons) not authorised by us to provide service (not including standard periodic maintenance). All parts considered to be perishable (such as batteries), accessories and bonus gifts are not covered by warranty.
Dead on arrival product is not something to expect when you buy from Outbaxcamping. However, should your item not function on arrival you are entitled to return the product to us for a full refund, repair, or replacement at your request. The item needs to be returned and inspected prior to the resolution being provided.