Bestway 3m Inflatable Stand Up Paddle Board SUP & Kayak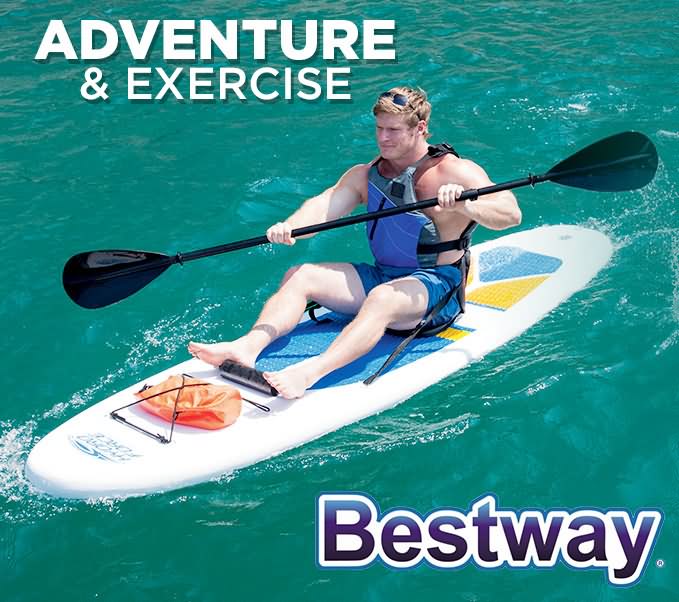 Bestway 3m Inflatable Stand Up Paddle Board SUP & Kayak
Been thinking of whether to buy a kayak or a stand up paddle board? Well, we got you covered with this re-engineered Bestway Hydro-Force stand up paddle board and kayak in one! It's sleek, rigid and strong - made with tough double-wall and drop stitch material that provides unparalleled strength and durability. With three modeled fins for directional stability, a 95kg weight capacity, 81 cm width & 10 feet in length.
This product has the advantages of kayaking and the cool factors of stand up paddle boarding. Use it as kayak if you're after for a more stable paddling than when standing especially on a little tough conditions. Besides being easy to maneuver, it also offers an all-around fitness. Work out your shoulders and arms by kayaking or your entire body by paddling on a SUP. Always your choice to stand on the board and enjoy a farther view, and on the other hand, you can just sit back and relax.
It's a highly versatile model, you can take with you to almost anywhere there's a water! The package is complete with 1 paddle, an oar, handle pump, one pressure gauge, a deluxe backpack, repair kit, seat with backrest when using as kayak, one footrest and a leash.
What's Included
1x
Air Hammer™ inflation pump
1x
Aluminum oar(2.21 m,87")
1x
Repair kit
1x
Travel bag
1x
Pressure gauge
1x
Kayak seat with back rest
Please note we are unable to deliver some bulky products to PO Box addresses.
We aim to dispatch in-stock items within 24 business hours after payment is cleared however please allow approximately 2 - 12 working days for product to arrive.
We highly recommend to provide a contact number that you can be reached on.
Outbaxcamping offers a 12 month warranty on all products from the date of purchase, unless otherwise stated. Outbaxcamping warrants its products against defects in materials and/or workmanship. If a defect arises and a valid claim is received by Outbaxcamping within 15 days of purchase, Outbaxcamping may, at its option, repair the products, provide replacement parts, or arrange a full replacement. If a defect arises and a valid claim is received by Outbaxcamping after 15 days of purchase, Outbaxcamping will replace the parts needed to repair the products. The warranty period for commercial use is 3 months.
Naturally the warranty cover does not extend to damage caused by normal wear and tear, accidents, misuse, lack of maintenance, neglect, natural disaster, or other external causes; to damage caused by operating the equipment in a manner outside that described in the instructions. The warranty is considered void if the item has been modified, altered or tampered with by a person (or persons) not authorised by us to provide service (not including standard periodic maintenance). All parts considered to be perishable (such as batteries), accessories and bonus gifts are not covered by warranty.
Dead on arrival product is not something to expect when you buy from Outbaxcamping. However, should your item not function on arrival you are entitled to return the product to us for a full refund, repair, or replacement at your request. The item needs to be returned and inspected prior to the resolution being provided.