Bestway Hydrium™ - Round 3.1m Above Ground Pool - With Filter Kit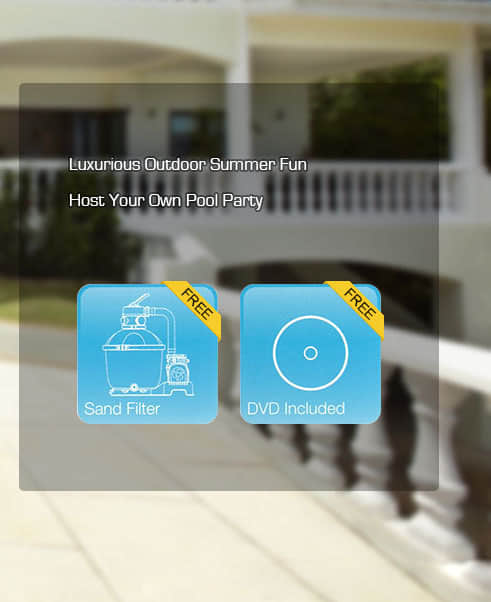 Bestway Hydrium™ - Round 3.1m Above Ground Pool - With Filter Kit
Bestway Hydrium Poseidon Pool is designed as a semi-permanent structure above ground swimming pool. This is a larger version of the Bestway Neptune pool though both came with the same features. It's particularly built strong and sturdy with reinforced 0.4mm steel wall, PVC liner with UV coating top, reinforced central frame support. Designed with impressive durability and stability, this stands as the best alternative to an in-ground swimming pool. This unit comes with an integrated skimmer system to easily maintain a hygienic and clean pool water.
The unit comes with a sand filter pump with a high volume flow rate of 530gph, a skimmer box and a 48" pool ladder. It's pretty easy to setup – for a detailed instruction and proper way of setting up the pool, refer to the user manual and DVD setup guide provided.
Pool dimension is 305cm x 122cm. It is 4 feet deep with 7,630L water capacity filled up to 90%. The unit comes with everything you need to get started and setup the pool. Get your backyard ready for a swimming fun all summer long. Now you can invite friends over and host your own pool party, or simply enjoy the warm weather outdoors with the family!
Product
Diameter:
3.05 metres
Height:
1.22 metres (48")
Capacity:
10,990 litres
Wall thickness:
0.4mm
Liner thickness:
0.4mm
Weight:
125kg
Box size:
145 x 77 x 52cm
Dimensions & Weight
Pool Dimensions:
3.05m x 1.22m
Pool Depth:
4ft
What's Included
1x
DVD
1x
Ground Cloth 58001
1x
Ladder 58097
1x
Filter Pump 58271 (530 gal.)
1x
Filter Cartridge Sand Filter
1x
Owner's manual
Please note we are unable to deliver some bulky products to PO Box addresses.
We aim to dispatch in-stock items within 24 business hours after payment is cleared however please allow approximately 2 - 12 working days for product to arrive.
We highly recommend to provide a contact number that you can be reached on.
Outbaxcamping offers a 12 month warranty on all products from the date of purchase, unless otherwise stated. Outbaxcamping warrants its products against defects in materials and/or workmanship. If a defect arises and a valid claim is received by Outbaxcamping within 15 days of purchase, Outbaxcamping may, at its option, repair the products, provide replacement parts, or arrange a full replacement. If a defect arises and a valid claim is received by Outbaxcamping after 15 days of purchase, Outbaxcamping will replace the parts needed to repair the products. The warranty period for commercial use is 3 months.
Naturally the warranty cover does not extend to damage caused by normal wear and tear, accidents, misuse, lack of maintenance, neglect, natural disaster, or other external causes; to damage caused by operating the equipment in a manner outside that described in the instructions. The warranty is considered void if the item has been modified, altered or tampered with by a person (or persons) not authorised by us to provide service (not including standard periodic maintenance). All parts considered to be perishable (such as batteries), accessories and bonus gifts are not covered by warranty.
Dead on arrival product is not something to expect when you buy from Outbaxcamping. However, should your item not function on arrival you are entitled to return the product to us for a full refund, repair, or replacement at your request. The item needs to be returned and inspected prior to the resolution being provided.