Workout Wiz Folding Inversion Table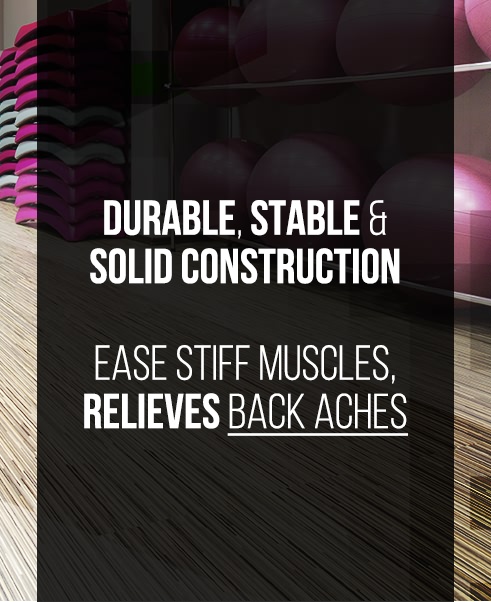 Workout Wiz Folding Inversion Table
Inversion table, sometimes called as inversion therapy, is a form of fitness to reduce back stress and pain by alleviating stress on the lower back. Inverting the body helps stimulate the blood circulation and relieve stiff muscles. It relaxes the overall body, increases body flexibility and improve posture.
Particularly designed with a durable tubular, scratch-resistant powder coated steel frame. Capable to a full angle of 180° invert. With vinyl covered high-density foam backrest, soft foam ankle clamps for comfort and an adjustable head pillow. It has pin adjustments so you can adjust precisely to your height. Featuring a rubber non-slip floor stabilizers for solid stability when inverting. With three position center points allows an easy inversion angle of your preference. Complete with adjustable safety strap to easily hold your desired inversion angle. It's foldable for easy storage, simply pull out and loosen the spring knob.
Be sure to read the provided manual before using the item for complete instructions on how to use the inversion table, for safety & general precautions and operation & step by step assembly instructions.
Warning: It is not recommended to use the inversion table without consulting a physician first if you have cardiovascular disease, high blood pressure, or glaucoma.
Product
Backrest:
high-density foam
Lumbar Support:
Yes
Frame:
Powder-coated steel
Max height range:
147-198cm
Weight capacity:
136KG
Folds for Storage:
Yes
Total Inversion Angle:
180
Frame:
Scratch-resistant powder coated steel
Weight:
22kg
Product dimensions:
118cm x 68cm x 149cm approx
Carton measurement:
132.5 x76 x14cm
IN THE BOX
1x
Inversion Table
Please note we are unable to deliver some bulky products to PO Box addresses.
We aim to dispatch in-stock items within 24 business hours after payment is cleared however please allow approximately 2 - 12 working days for product to arrive.
We highly recommend to provide a contact number that you can be reached on.
Outbaxcamping offers a 12 month warranty on all products from the date of purchase, unless otherwise stated. Outbaxcamping warrants its products against defects in materials and/or workmanship. If a defect arises and a valid claim is received by Outbaxcamping within 15 days of purchase, Outbaxcamping may, at its option, repair the products, provide replacement parts, or arrange a full replacement. If a defect arises and a valid claim is received by Outbaxcamping after 15 days of purchase, Outbaxcamping will replace the parts needed to repair the products. The warranty period for commercial use is 3 months.
Naturally the warranty cover does not extend to damage caused by normal wear and tear, accidents, misuse, lack of maintenance, neglect, natural disaster, or other external causes; to damage caused by operating the equipment in a manner outside that described in the instructions. The warranty is considered void if the item has been modified, altered or tampered with by a person (or persons) not authorised by us to provide service (not including standard periodic maintenance). All parts considered to be perishable (such as batteries), accessories and bonus gifts are not covered by warranty.
Dead on arrival product is not something to expect when you buy from Outbaxcamping. However, should your item not function on arrival you are entitled to return the product to us for a full refund, repair, or replacement at your request. The item needs to be returned and inspected prior to the resolution being provided.