Workout Wiz 5in1 Elliptical Cross Trainer Exercise Bike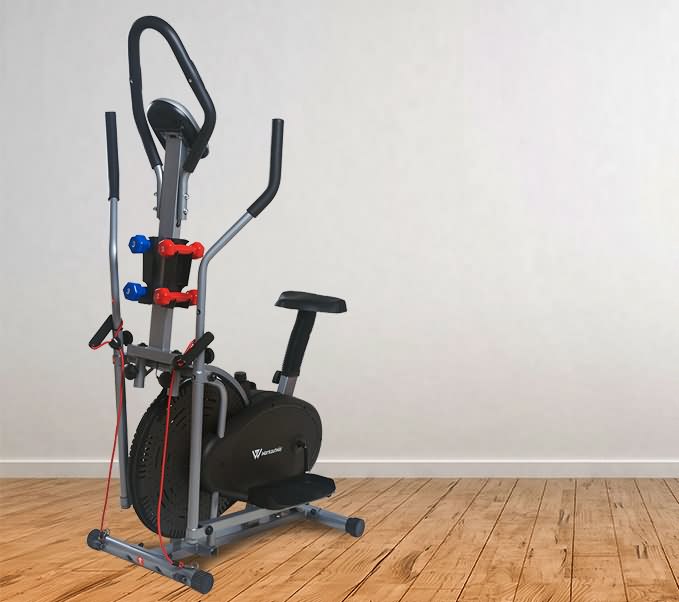 Workout Wiz 5in1 Elliptical Cross Trainer Exercise Bike
The elliptical cross trainer machine provides a full body workout – from arms, shoulders, back, hips, buttocks to legs. It's perfect for both upper and lower body cardiovascular workout. The gliding motion is considered low impact to avoid strain on the joints, it's less stressful on your knees, hips and back than running on a treadmill. This machine can also be pedaled in reverse to allow you to work your calf and hamstring muscles.
This elliptical trainer unit can also be used as exercise bike that features an adjustable seat. It's also easy to keep track on your progress with the multi-functional LCD display – with time, speed, distance and calorie burns monitoring. It has a weight capacity of 110kg. The resistance level can be adjusted to your desired fitness level. This machine is made compact, designed with wheels for easy storage and moving around. Elliptical cross trainer is an efficient workout equipment to work you upper and lower body and get your cardio fixed all in one go. Having one at home, you can burn fat and calories even while watching your favorite television show!
This sale also includes:
Two dumbbell sets (2lbs and 3lbs), which made of iron and coated with vinyl coating for maximum comfort and grip.
Resistance Bands, which are attached on both ends of the bike. Giving you great flexibility in how you set up your work space.
Elliptical Cross Trainer
5-in-1: Elliptical Trainer FWD+REV, Exercise Bike, Resistance Trainer or Dumbbell Rack
Multi-Functional LCD Display - Time, Speed, Distance & Calories
Your Alternative to Jogging, Treadmill or Outside Run
Dual Function – Use as an Elliptical Trainer or Exercise Bike
What's Included
1x
5-in-1: Elliptical Trainer
2x
2lbs Dumbbell Sets
2x
3lbs Dumbbell Sets
Resistance Bands
We dispatch items super quick, within 24 hours during business days.
Orders placed by midnight will qualify for next day dispatch.
If you place an order on a Friday evening or the weekend, your item will be dispatched on Monday morning.
We believe in great service, so if you ever have an issue with the item within or outside of warranty, simply contact our team and we will be glad to help.
All our items come with full Australian warranties that comply with the Australian Consumer Law and Consumer Guarantees.
Our full warranty details can be found here.