Bestway Flowclear 3028L Above Ground Swimming Pool Water Cleaner Filter Pump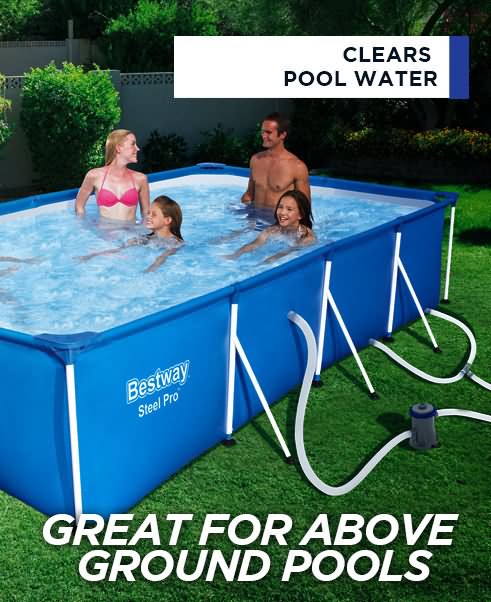 Bestway Flowclear 3028L Above Ground Swimming Pool Water Cleaner Filter Pump
Jump into a beautifully clean pool this season! The Bestway Flowclear 3,028L filter pump is a highly efficient accessory for maintaining the overall cleanliness of your pool water.
The filter pump is most compatible with Bestway above ground swimming pools that can accommodate 1,100-19,300 litres. Plus, its economical design makes it a breeze to set up and put away when the summer season comes to an end.
It comes fully equipped with a filter cartridge as well. Simply attach it to the pool's filter system and it will pump through 2,195 litres of water per hour. This means you can swim all season long, just change the filter cartridge as recommended for optimal pool hygiene. Used with a pool cover (sold separately) will really keep the leaves and other debris out and your pool will look spotless. Buy your Filter Pump today from Outbaxcamping!
WHAT'S INCLUDED
1 x
Filter Pump
1 x
Filter Cartridge
4 x
Hoses
8 x
Hose Clamps
3 x
Debris Screens
1 x
T-Joint
1 x
User Manual
Dimensions & Weight
Product Carton Size (L x W x H):
26.5 x 26.5 x 34.5cm
Product Weight:
3kg
Please note we are unable to deliver some bulky products to PO Box addresses.
We aim to dispatch in-stock items within 24 business hours after payment is cleared however please allow approximately 2 - 12 working days for product to arrive.
We highly recommend to provide a contact number that you can be reached on.
Outbaxcamping offers a 12 month warranty on all products from the date of purchase, unless otherwise stated. Outbaxcamping warrants its products against defects in materials and/or workmanship. If a defect arises and a valid claim is received by Outbaxcamping within 15 days of purchase, Outbaxcamping may, at its option, repair the products, provide replacement parts, or arrange a full replacement. If a defect arises and a valid claim is received by Outbaxcamping after 15 days of purchase, Outbaxcamping will replace the parts needed to repair the products. The warranty period for commercial use is 3 months.
Naturally the warranty cover does not extend to damage caused by normal wear and tear, accidents, misuse, lack of maintenance, neglect, natural disaster, or other external causes; to damage caused by operating the equipment in a manner outside that described in the instructions. The warranty is considered void if the item has been modified, altered or tampered with by a person (or persons) not authorised by us to provide service (not including standard periodic maintenance). All parts considered to be perishable (such as batteries), accessories and bonus gifts are not covered by warranty.
Dead on arrival product is not something to expect when you buy from Outbaxcamping. However, should your item not function on arrival you are entitled to return the product to us for a full refund, repair, or replacement at your request. The item needs to be returned and inspected prior to the resolution being provided.