Perfect Oasis Outdoor Gazebo Shade Canopy 3X3 Blue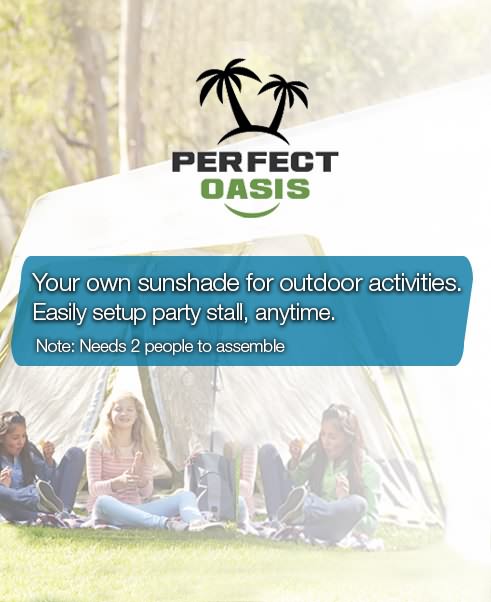 Perfect Oasis Outdoor Gazebo Shade Canopy 3X3 Blue
A Gazebo is perfect for quite a lot of occasions, it's reasonably convenient to have at least one around. Heading out camping? Beach outing? Even as simple as picnic in the park or family get-together in the backyard, a Gazebo would certainly come rather handy for sun and light rain protection. This will provide the additional shade needed. This is made of strong and durable polyethylene material with sturdy and heavy duty legs and with rust-resistant finish.
It offers 4 adjustable height levels with thick and strong roof beams. It is fully portable. Made with high quality PVC coated oxford with sturdy legs and support structures. It's pretty easy to assemble with quick release and fasten rings for stress-free set up and is also quick to pack down after use. Depending on applications, we offer a range of gazebos, marquees and tents to suit your lifestyle.
Portable design that's ideal for most outdoor activities – offers temporary protection from sun or light rain. Equipped with strong legs and supports structure, long-lasting performance is guaranteed. Don't let the weather thwart your outdoor plan. Set up your own shade! 
The gazebo is designed to withstand mild weather condition such as light wind or rain however, note that the product is intended for temporary structure only and it is not recommended to be used under extreme weather conditions or for a prolonged period of time. In such events, ensure that any free-standing marquee are sufficiently secured and tied-down to prevent damage to the structure and people around. Outbaxcamping may not be accountable for any accidents or damages of any kind that are due to improper usage of the item. It is the users' responsibility to understand and recognize the products' limitation and to determine its proper usage. For further instructions and application of the item, please refer to the manual included.
Product
TITLE:
RATING
TITLE:
RATING
Dimensions & Weight
Dimensions
XXcm(L) x XXcm(W) x XXcm(H)
Weight:
XXKg
We dispatch items super quick, within 24 hours during business days.
Orders placed by midnight will qualify for next day dispatch.
If you place an order on a Friday evening or the weekend, your item will be dispatched on Monday morning.
We believe in great service, so if you ever have an issue with the item within or outside of warranty, simply contact our team and we will be glad to help.
All our items come with full Australian warranties that comply with the Australian Consumer Law and Consumer Guarantees.
Our full warranty details can be found here.