Solar Rope Light Spiral Tree LED Multi Colour Outdoor Christmas Light Decor 90cm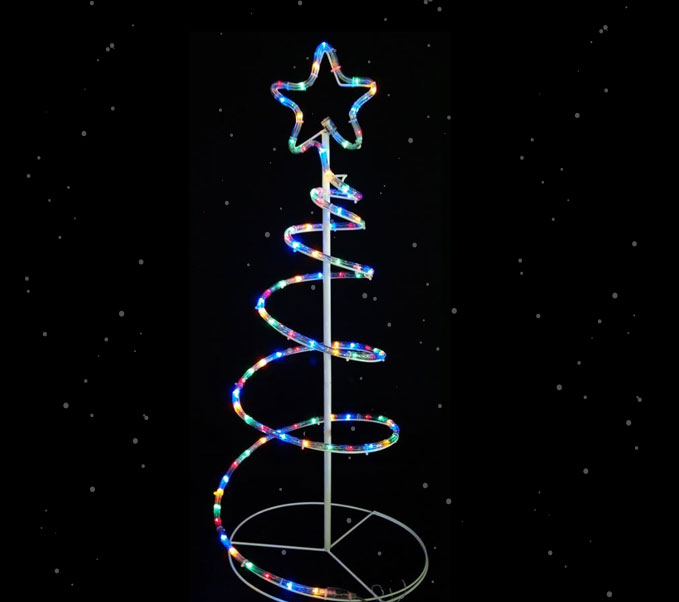 Solar Rope Light Spiral Tree LED Multi Colour Outdoor Christmas Light Decor 90cm
Experience the holidays in style with this LED Ropelight Spiral Christmas Tree, a 90cm light display will bring the spirit of Christmas into your neighbourhood. Its attractive design will be a great addition to your home or office decoration. Made with 24 LED per metre, this spiral tree glows with four vibrant colours that go all the way up to the beautifully crafted star.
The LED light bulb feature is one of the best improvements in the industry, as it doesn't burn nearly as hot as regular bulbs, yet the colours remain just as bright. It's integrated with a flashing speed controller depending on your preference, on top of the standard steady setting that works for each individual holiday theme. The wiring is covered in a sleek blclear material that holds each individual bulb in place, with the overall length cord of 8m that plugs into a 240V electric outlet. It's a pretty easy setup, as it is a free-standing display wherein all you need to do is plug it in, keeping even the clean-up at the end of the holiday season just as easy.
It's a great addition to any setting, as it can be used both inside your home and outside in the yard - making it one of the more flexible decoration pieces in your holiday setting. It comes with an Electronic Voltage Transformer to help regulate the electricity and voltage during use and comes SAA approved, ensuring your safety and security while you celebrate the best time of the year. Spread joy this holiday season with this remarkable LED Ropelight Spiral Christmas Tree!
WHAT'S IN THE BOX
1 x
LED Ropelight Christmas Tree
1 x
Solar Panel
1 x
Rechargeable Battery
1 x
Garden Stake
1 x
Metal Base and Pole
Please note we are unable to deliver some bulky products to PO Box addresses.
We aim to dispatch in-stock items within 24 business hours after payment is cleared however please allow approximately 2 - 12 working days for product to arrive.
We highly recommend to provide a contact number that you can be reached on.
Outbaxcamping offers a 12 month warranty on all products from the date of purchase, unless otherwise stated. Outbaxcamping warrants its products against defects in materials and/or workmanship. If a defect arises and a valid claim is received by Outbaxcamping within 15 days of purchase, Outbaxcamping may, at its option, repair the products, provide replacement parts, or arrange a full replacement. If a defect arises and a valid claim is received by Outbaxcamping after 15 days of purchase, Outbaxcamping will replace the parts needed to repair the products. The warranty period for commercial use is 3 months.
Naturally the warranty cover does not extend to damage caused by normal wear and tear, accidents, misuse, lack of maintenance, neglect, natural disaster, or other external causes; to damage caused by operating the equipment in a manner outside that described in the instructions. The warranty is considered void if the item has been modified, altered or tampered with by a person (or persons) not authorised by us to provide service (not including standard periodic maintenance). All parts considered to be perishable (such as batteries), accessories and bonus gifts are not covered by warranty.
Dead on arrival product is not something to expect when you buy from Outbaxcamping. However, should your item not function on arrival you are entitled to return the product to us for a full refund, repair, or replacement at your request. The item needs to be returned and inspected prior to the resolution being provided.