Solar Rope Light Spiral Tree LED Multi Colour Outdoor Christmas Light Decor 90cm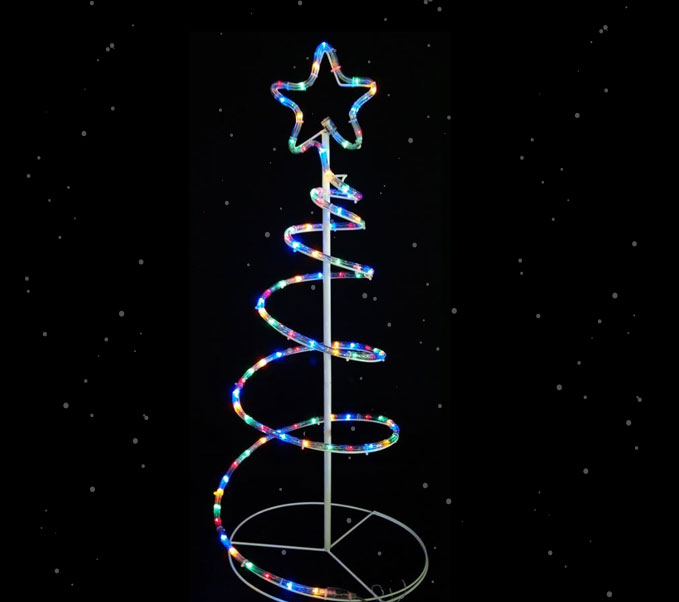 Solar Rope Light Spiral Tree LED Multi Colour Outdoor Christmas Light Decor 90cm
Experience the holidays in style with this LED Ropelight Spiral Christmas Tree, a 90cm light display will bring the spirit of Christmas into your neighbourhood. Its attractive design will be a great addition to your home or office decoration. Made with 24 LED per metre, this spiral tree glows with four vibrant colours that go all the way up to the beautifully crafted star.
The LED light bulb feature is one of the best improvements in the industry, as it doesn't burn nearly as hot as regular bulbs, yet the colours remain just as bright. It's integrated with a flashing speed controller depending on your preference, on top of the standard steady setting that works for each individual holiday theme. The wiring is covered in a sleek blclear material that holds each individual bulb in place, with the overall length cord of 8m that plugs into a 240V electric outlet. It's a pretty easy setup, as it is a free-standing display wherein all you need to do is plug it in, keeping even the clean-up at the end of the holiday season just as easy.
It's a great addition to any setting, as it can be used both inside your home and outside in the yard - making it one of the more flexible decoration pieces in your holiday setting. It comes with an Electronic Voltage Transformer to help regulate the electricity and voltage during use and comes SAA approved, ensuring your safety and security while you celebrate the best time of the year. Spread joy this holiday season with this remarkable LED Ropelight Spiral Christmas Tree!
WHAT'S IN THE BOX
1 x
LED Ropelight Christmas Tree
1 x
Solar Panel
1 x
Rechargeable Battery
1 x
Garden Stake
1 x
Metal Base and Pole
We dispatch items super quick, within 24 hours during business days.
Orders placed by midnight will qualify for next day dispatch.
If you place an order on a Friday evening or the weekend, your item will be dispatched on Monday morning.
We believe in great service, so if you ever have an issue with the item within or outside of warranty, simply contact our team and we will be glad to help.
All our items come with full Australian warranties that comply with the Australian Consumer Law and Consumer Guarantees.
Our full warranty details can be found here.