Portable High Pressure Tyre Inflator 150PSI Air Compressor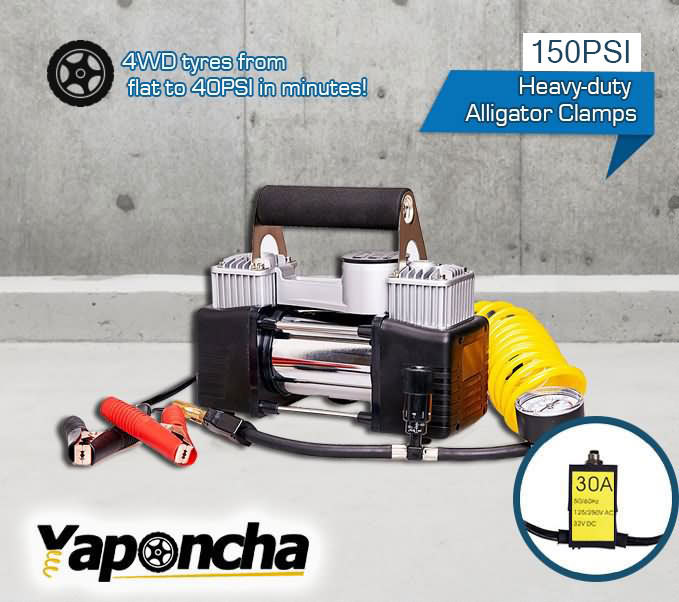 Portable High Pressure Tyre Inflator 150PSI Air Compressor
Arguably the most vulnerable part of your vehicle are the tyres! Don't let a flat or under inflated tyre ruin your trip. The Yaponcha 85L Portable Air Compressor will definitely save your day and keep you moving to your destination. This mighty air compressor comes in a very small package but comes with a punch in inflating your tires in no time. Now you no longer need to damage your rims for an emergency pit-stop to the nearest petrol station!
The Yaponcha Air Compressor is ergonomically designed to be portable and lightweight. Featuring platinum coloured fittings, it also comes with twin stainless steel valves, heavy duty copper core motor, dual foam air filtration and thermal protection for extensive use under the hot summer days. There is a convenient fuse reset to keep you going when it really counts. The package also includes heavy duty alligator clamps with 3m power cable.All of these are housed in a stylish fabric carry case that you can easily store in your fourby's boot or under the seat.
This is a must have vehicle accessory on any type of adventure whether for off-roading, camping, or just a simple family road trip. Comes with 3 bonus head attachments and deflation valves. And the freebies don't end there! You'll get a tyre repair kit as well and all of these are covered with free postage. So what are you waiting for? This is a fantastic offer!
Product
Motor Type:
Permanent Magnetic
Max Air Flow:
85L/min
Rated Air Flow:
50L/min
Voltage Range:
12-13.8 V
Max Amperage Draw:
23A
Working Pressure:
100 PSI
Max Restart Pressure:
150 PSI
Ambient Temp Range:
-55C to 60C
Recommended duty cycle:
30Min @ 40 PSI
Hose fittings:
1/4" NPT
Hose Length:
5M
Dimensions:
300 x 150 x 200mm
Weight:
6.5kgs
WHAT'S INCLUDED
1x
Portable Air Compressor
1x:
Coil Air Hose with Pressure Gauge
2x
Mufflers
1x
User Manual
1x
Tyre Repair Kit
3x
Bonus Inflatable Head Attachments
1x
Carry Bag
Please note we are unable to deliver some bulky products to PO Box addresses.
We aim to dispatch in-stock items within 24 business hours after payment is cleared however please allow approximately 2 - 12 working days for product to arrive.
We highly recommend to provide a contact number that you can be reached on.
Outbaxcamping offers a 12 month warranty on all products from the date of purchase, unless otherwise stated. Outbaxcamping warrants its products against defects in materials and/or workmanship. If a defect arises and a valid claim is received by Outbaxcamping within 15 days of purchase, Outbaxcamping may, at its option, repair the products, provide replacement parts, or arrange a full replacement. If a defect arises and a valid claim is received by Outbaxcamping after 15 days of purchase, Outbaxcamping will replace the parts needed to repair the products. The warranty period for commercial use is 3 months.
Naturally the warranty cover does not extend to damage caused by normal wear and tear, accidents, misuse, lack of maintenance, neglect, natural disaster, or other external causes; to damage caused by operating the equipment in a manner outside that described in the instructions. The warranty is considered void if the item has been modified, altered or tampered with by a person (or persons) not authorised by us to provide service (not including standard periodic maintenance). All parts considered to be perishable (such as batteries), accessories and bonus gifts are not covered by warranty.
Dead on arrival product is not something to expect when you buy from Outbaxcamping. However, should your item not function on arrival you are entitled to return the product to us for a full refund, repair, or replacement at your request. The item needs to be returned and inspected prior to the resolution being provided.